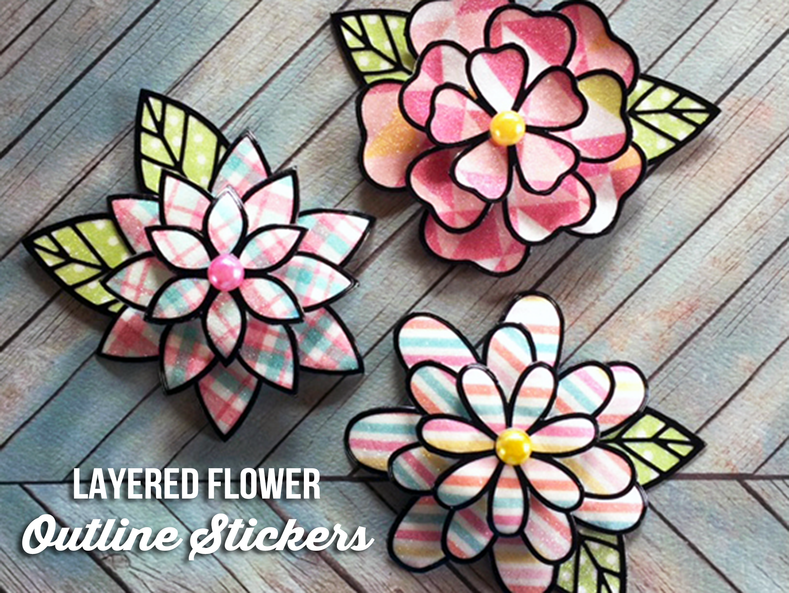 Spring is right around the corner so it's the perfect time to create these beautiful layered flowers with the new floral Krazy Kreations Outline Stickers.
To create these flowers:
Step 1: Make patterned glitter paper. Select a cardstock with a pretty pattern (one with some white works best). Then adhere Scor-Tape to the top of the patterned cardstock. Remove the paper backing from the Scor-Tape to expose the adhesive. You will be able to see the patterned cardstock through the Scor-Tape. Sprinkle your glitter (Glitter Ritz Cool Highlights or Elizabeth Craft Designs Cool Diamond) onto the exposed adhesive. Tap off the excess and burnish the glitter with your finger tool. Voila: Patterned glitter paper!
Step 2: Peel the Outline Stickers and adhere to your patterned glitter paper. You will peel one large, one medium, and one small flower. Burnish with your finger then cut them out with scissors.
Step 3: Repeat steps 1 & 2 for the leaves.
Step 4: Layer the flowers! Use foam pop dots to create dimension between the different sizes of flowers. Adhere the leaves behind the large flower.
Step 5: Add a pearl in the center.
You can create some beautiful embellishments with this technique!